With the preseason officially over, it's time to take a deeper dive into some of the quarterback battles, and the one we are going to highlight today is the battle under center for the New England Patriots between Cam Newton and rookie Mac Jones.
So will it be Mac or Cam? Let's dive in to each QB and figure out which one should ultimately be named the starter.
The Case for Mac Jones
Mac Jones seems to be the prototypical quarterback that Bill Belichick would want under center for his style of offense. He played incredibly well throughout the preseason as he finished with a Pro Football Focus grade of 92.2, which is good for the best by a rookie quarterback in the preseason since the inception of their grading system. He definitely has played well and looks like he has built some rhythm with some of the key offensive weapons like Jakobi Meyers, Nelson Agholor, and Hunter Henry, to name a few.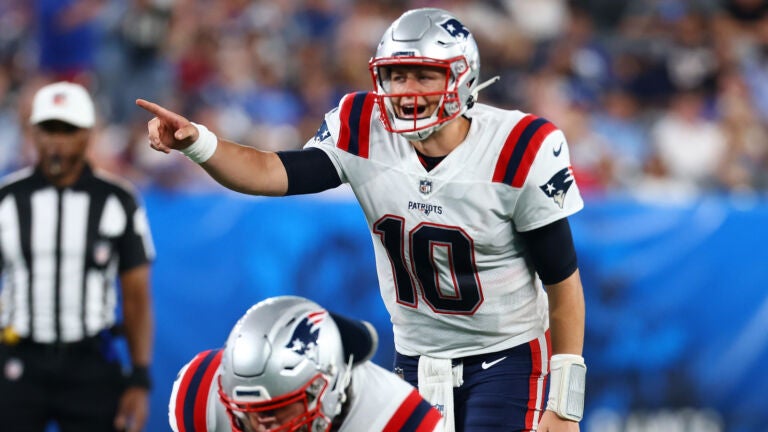 Now let's try to "take down" the Cam Newton side of the argument. When looking at his passing numbers last season, it wasn't pretty. Newton ranked 30th in the league with a 47.0 QBR but completed 65.7 percent of his passes. However, he threw just eight touchdowns to 10 interceptions. In the NFL, especially with how the league is getting more and more pass-happy, you need someone who can take the game over with their arm. Unfortunately, there isn't much there in Newton's arm that he can provide to this offense.
The Case for Cam Newton
It's always going to be difficult to argue against a former NFL MVP and a quarterback that led his team to the Super Bowl. Cam Newton has already digested the playbook that the Patriots are going to try to run and should see a sizable increase in his production being in his second year in the system. He also hasn't done anything to "lose his job" as a starter for this team during the preseason after building chemistry with the offensive line and some weapons on the offensive side of the ball last season.
Now to try to silence the "Mac Jones should start" crowd. One big thing is trying to alleviate as much pressure from Jones' shoulders as possible for whenever he makes his debut. Jones did play well in the preseason, but so did Newton, and he has the experience factor on his side as well. Belichick would love to give Newton some extra time under center to let the rookie mature a little bit in the league and understand the playbook as much as humanly possible.
Conclusion
Getting your rookie quarterback some time under center is going to be critical, and New England has a pretty easy schedule in their first seven games. Personally, starting a first-round rookie is the better move unless you have a great veteran quarterback with a similar archetype like Alex Smith was in Kansas City for Patrick Mahomes.
However, Newton's struggles last season doesn't qualify him for that either, so they should go with Mac Jones and try to gain him some early confidence against weaker teams. Cam didn't necessarily lose the job but coming off a season where the team missed the playoffs for the first time in forever, they would want some stability. All in all, expect Cam Newton to be in the starting lineup in Week 1 when they host the Miami Dolphins.
---
Join our Discord
to leave a question or comment regarding this article. We have sports fans talking betting all day — every day! JOIN THE DISCORD NOW AND QUALIFY FOR PRIZES & BETTING SWAG!
---