Allow me to introduce you to the new King of New York, Mike White. If you do not know the name Mike White, you should not feel bad. Before Sunday, very few people knew about the fifth-round pick from 2018.
White did the unthinkable for the Jets on Sunday. He led the team to a victory. It's only one victory, but winning and the Jets are not synonymous terms, so you have to tip your cap to the 26-year-old.
New York is fickle. Fans in the Big Apple love their sports, but they care about what you have done for them TODAY. This fanbase boos Francisco Lindor after one week in the city for crying out loud!
On Sunday, White was a champion, so considering New York's mindset, the quarterback is now the King of New York.
Mike White Shines Against Burrow's Bengals
White looked like a puppy dog on the sidelines listening to the crowd at MetLife Stadium chant his name. It was something that he did not think would occur, as he attested in the postgame presser.
"At first, I kind of had to listen again. Like, are they chanting my name?"
The quarterback led a heroic comeback throwing for 405 yards and three touchdowns on the afternoon.
He even caught a two-point conversion on the go-ahead touchdown to cap off his record day. White joined Cam Newton as the only player since 1950 to throw for 400 yards in their first career start.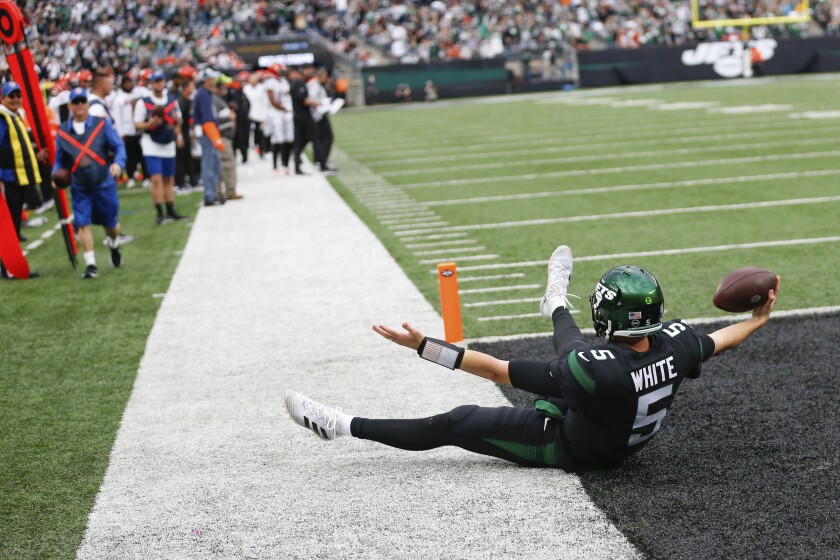 White started the day throwing two interceptions and making Jets fans feel like it was a typical afternoon at MetLife Stadium. However, he stayed composed, and when New York started to gain momentum, the air in the city became cleaner.
The game came down to the fourth quarter as the Jets scored 17 points, but there was no denying New York had the momentum for the majority of the second half.
New York running back Ty Johnson praised his quarterback after the game.
"He's a dog. He's an animal. He's a savage. I told him before the game, 'You're a gunslinger, so let's ride."
I am not saying there is a quarterback competition in New York, but Zach Wilson has not been praised like White this season. Additionally, it's not like White has a lot of experience in the NFL. The gunslinger threw his first professional pass last week once Wilson left the game.
For the Bengals, today was a massive letdown following their week seven win over the Ravens. Although, this is why we play the game. On any given day, any team can win in professional football.
Jets head coach Zac Taylor did not make any excuses after the game. His team did not show up to play football on Sunday.
"Got outcoached, got outplayed today. They're a hungry team. We knew they were capable of this."
---
Join our Discord
to leave a question or comment regarding this article. We have sports fans talking betting all day — every day! JOIN THE DISCORD NOW AND QUALIFY FOR PRIZES & BETTING SWAG!
---