After just two weeks in the preseason, Jimmy Garoppolo's run as the San Francisco 49ers starting quarterback may be coming to an end sooner than expected.
While Jimmy G has only gotten limited snaps this preseason, his play has looked uninspiring thus far. In his first game against the Kansas City Chiefs, Garoppolo completed three passes for 26 yards in just one series. In last Sunday night's game against the Los Angeles Chargers, he went 3/6 for 25 yards and one interception.
Despite it only being the preseason, his inaccuracy with the football has been a common trend in his career, which showed up again last night. He was off-target on several throws, and his interception came off a high pass which can be attributed to poor footwork.
In Garoppolo's defense, rookie quarterback Trey Lance also had a similar interception as well. The difference is, Lance made it up for it in a big way thereafter, which is impressive for a rookie quarterback.
With only 57 seconds remaining in the first half, Lance led the Niners to a touchdown on two gorgeous throws.
Since Coach Kyle Shanahan elected to only play Garoppolo sparingly Sunday night, who knows how Jimmy would have responded after his mistake. After all, Garoppolo does have a track record of bouncing back immediately after an interception.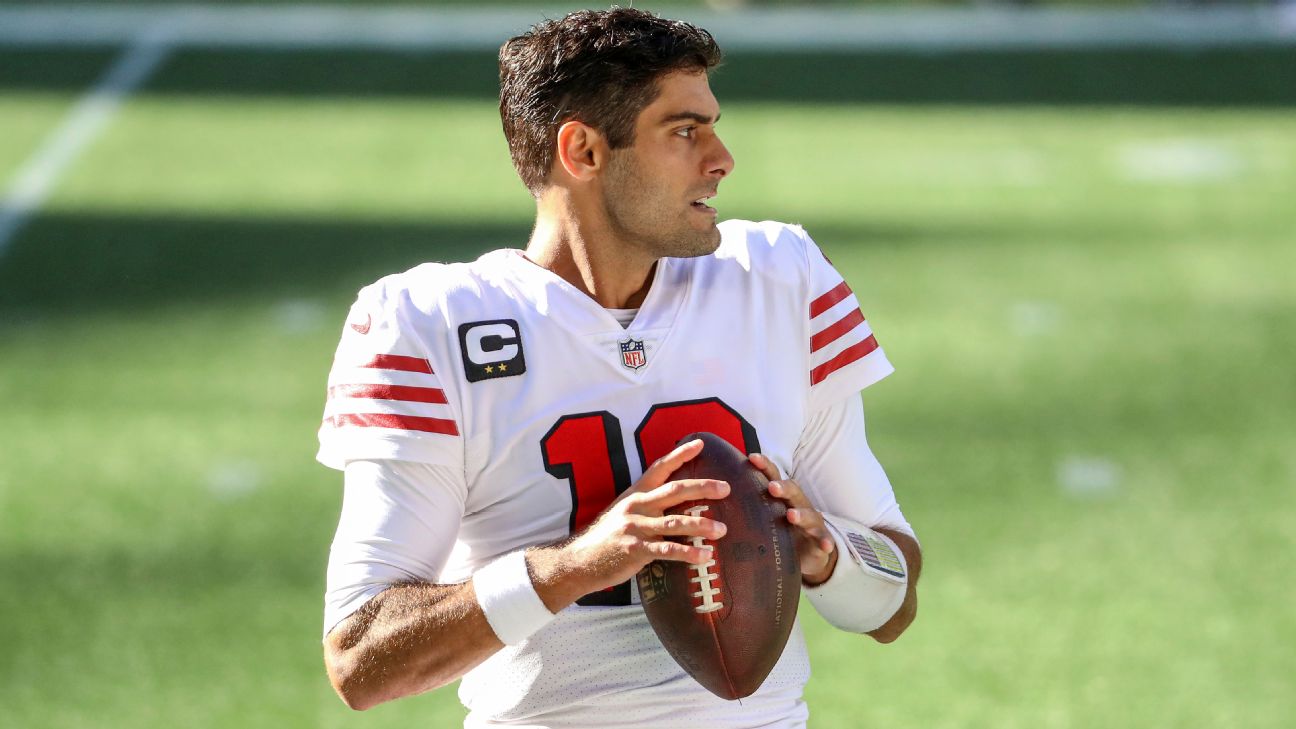 To start the second half, Shanahan continued to play Lance. It was then when we got to see Trey's true potential. He made some impressive throws off awkward platforms and used his legs to not only run himself but create plays in the passing game while keeping his eyes downfield.
His second touchdown of the game was the main highlight of the game. In that play, he was able to look off the Charger's safety and throw a dart in between three defenders in stride to his teammate Travis Benjamin.
After the game, Coach Shanahan stated that he was not ready to name Garoppolo the Week 1 starter despite him being pretty decisive at the start of training camp that he is the #1 QB on the roster.
Maybe this quarterback controversy says more about Lance than it does about Garoppolo. After a lackluster start, Trey looked as impressive as the Niners could have hoped. He was accurate with the football and made plays that Garoppolo simply has not shown yet in his seven years in the league.
In my opinion, Coach Shanahan is just waiting for an excuse to throw in Lance. Even though I expect Garoppolo to start the season in Week 1, I do not believe it will be for long. Expect a very short leash with the veteran QB.
In the meantime, I would anticipate Shanahan getting Lance on the field in certain run/pass option plays to get his feet wet and utilize his skills.
Just like other veteran/rookie quarterback situations in the league this year, it is a matter of when, not if, the rookie will eventually start for the team.
---
Join our Discord
to leave a question or comment regarding this article. We have sports fans talking betting all day — every day! JOIN THE DISCORD NOW AND QUALIFY FOR PRIZES & BETTING SWAG!
---