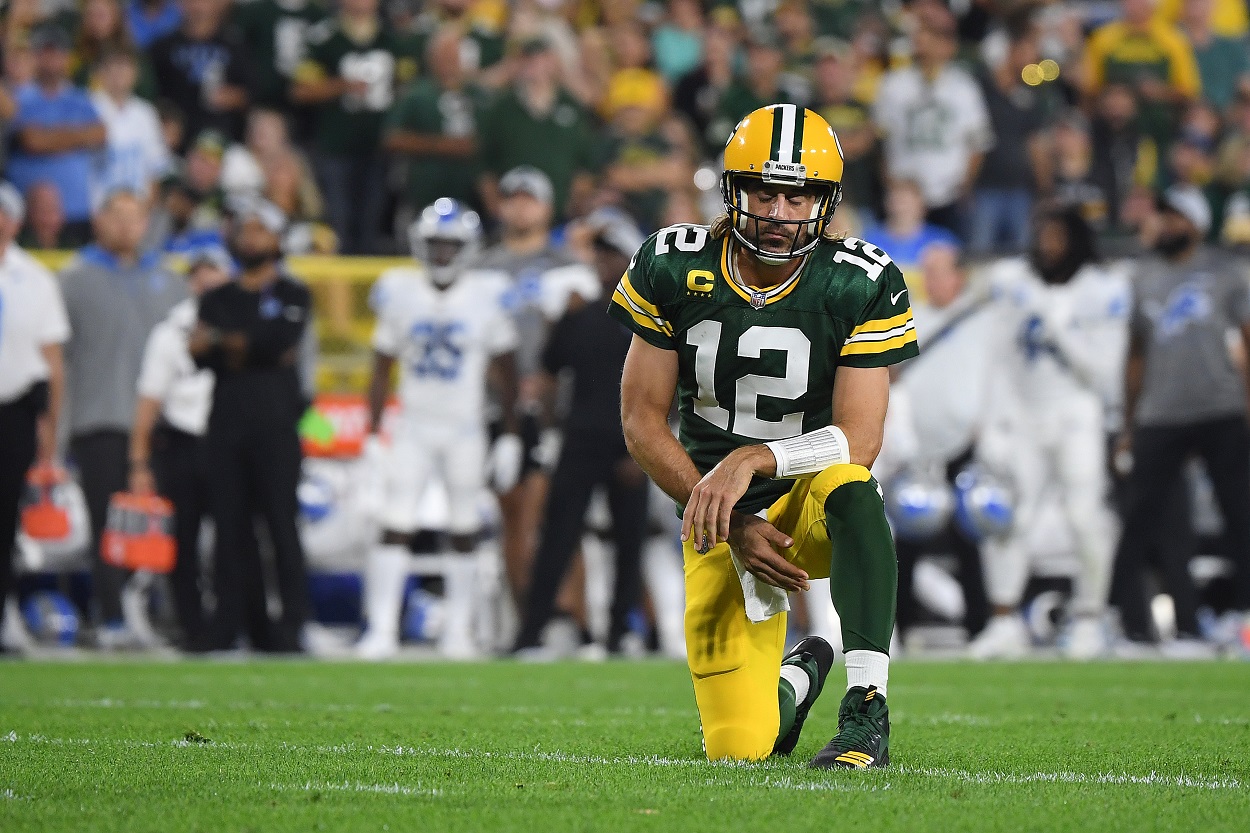 There are 3 NFL teams to struggle, that are on track to heavily underperform this year and disappoint their fans. Tommy Burch tells us his thoughts and why these teams should be scared of the season to come.
3 NFL Teams To Struggle That Should Be Scared of the 2022 Season
The NFL offseason is in full effect, as we linger between OTAs and Preseason. Teams have built their rosters, garnered credibility, and made their way up the preseason power rankings.
However, there are some teams that were at a highly competitive level last year that lost their flare. Some amazing talent found their way to other rosters, leaving their team out to dry, and many of those teams found no solutions. There is always a day when an NFL franchise begins to crumble, and the teams I will be ranking today are accelerating towards that destination.
1. Seattle Seahawks

Losing a pro bowl level quarterback is always a downside, especially when he's as talented as Russel Wilson. The trade package was nothing spectacular, getting back a young, unaccomplished quarterback in Drew Lock.
Nice job beefing up your offensive line for Chris Carson Seattle. Even if Carson can't play, Rashaad Penny is a good backup. All you need to do is draft a good, early 2nd-round quarterback to fill out depth and make an easier pick than choosing Geno Smith or Drew Lock.
No, let's ignore the most mind-numbing basic logic and draft a running back, which is easily the second most deep position on their offense next to maybe the receivers. I understand the concerns for Carson, but maybe don't waste the 41st pick in the draft on a guy who's gonna end up either splitting touches or making you move on from the last guy.
Getting edge and corner help is okay, but moving on from Bobby Wagner a month after the draft is no help whatsoever. Still one of the best MLB's in the game, releasing him and making your bad defense even closer to terrible is going to make games against the most mediocre opponents difficult.
There are stars on your team, don't get me wrong. This roster can make plays and will pull a couple of wins out of thin air. It's not the players I'm after, it's the staff. John Schneider, you ought to be ashamed of yourself, letting down the 12. Prepare for a season under .500 in one of the most competitive divisions in football.
2. Cleveland Browns

Five years ago, I would feel bad adding them to this list. I probably wouldn't at all, just out of respect for your poor fans. Now, I have no mercy.
Deshaun Watson, a player who hasn't played in a year and holds 4 active lawsuits from different women and settled 20 of them was given $230 million guaranteed over 5 years. You can't guarantee the guy even plays this year, wasting a possible $45 million in the process. One of the worst financial and business decisions in the history of the sport, but you can't expect much from the team that signed Kareem Hunt.
Don't forget edge rusher Malik McDowell, who had a bit of a track record in the police department with four prior arrests, come to find out he gets arrested again in January for public exposure and battery of a police officer.
Two of your guys, a rotational and important edge rusher alongside your supposed franchise QB won't be on your roster. That's phenomenal. Maybe going back to Baker will help your situation a little more.
That is unless you ruined your relationship with him by throwing him on the field basically in a full-body cast and forcing him to play, and after an expected down year from the injured quarterback, you try and replace him.
So, looking at it now, the most realistic option for your starting quarterback position is Jacoby Brissett. He's a great backup, but there's a reason that's what his title entails.
Your two top receivers left, one for the Super Bowl-winning team in LA, and the other back home to New Orleans. Not only is your quarterback situation in crisis, but behind Amari Cooper and Donavon Peoples-Jones, the next up at receiver is Anthony Shwartz. Yikes. At least you still have a defense.
3. Green Bay Packers

Whoa now Tommy, pump the breaks. How is the consecutive two-time MVP gonna fall off this year? Cheeseheads, don't worry. Aaron Rodgers is not going to lose any of his magical quarterback ability this year. What he is losing is almost everything else.
His No. 1 receiver is Sammy Watkins. I don't care in the slightest how much depth you have at the position. Sammy Watkins hasn't been a No. 1 receiver since his second year with the Bills in 2015. Losing Davante Adams is a nightmare.
The rest of the offense is fine, with decent depth at most positions (although the right side of the line scares me), but you better watch out for Tonyan coming back from his ACL tear.
The offense isn't my issue. The defense is. Specifically, the front seven. I'm mostly worried about the defensive lineman. Other than Kenny Clark, both ends are looking quite fragile. The depth of every position in the front 7 is lackluster, and their defensive backs have all of their talent poured into two or three guys and the rest were left to dry.
I may have lied to start. I'm a bit concerned about Rodgers. His mentality doesn't seem to be there, and he lost his best receiver to a guy clearly lower in ability than him. Adams got them out of a couple of really tough spots, and their conference is known for their defense. It may be bold, but I see this team going slightly over .500 this year, and disappointing Packers fans worldwide.
---
Join our Discord
to leave a question or comment regarding this article. We have sports fans talking betting all day — every day! JOIN THE DISCORD NOW AND QUALIFY FOR PRIZES & BETTING SWAG!
---